Godrej Ezee and Gul Panag join hands for 'Ezee Hugs', to highlight winter-related hardships of underprivileged kids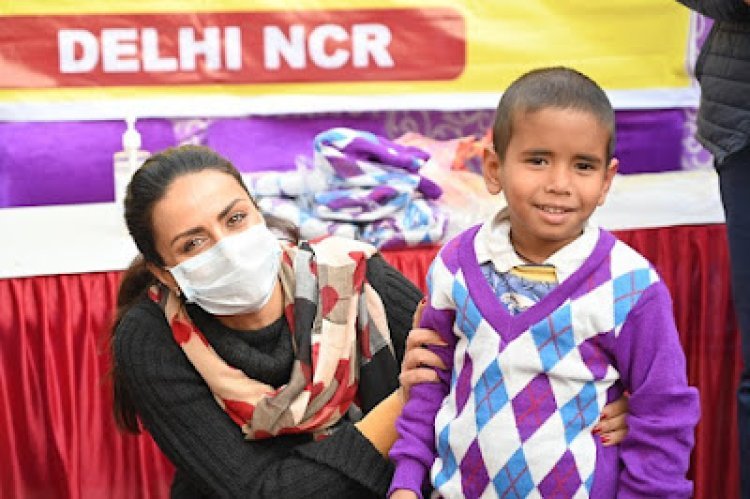 Godrej Ezee and Gul Panag join hands for 'Ezee Hugs', to highlight winter-related hardships of underprivileged kids
New Delhi : Liquid detergent brand Godrej Ezee and actress & entrepreneur Gul Panag join hands to raise awareness of winter-related hardships faced by underprivileged kids as part of Ezee Hugs. Currently in its 12th edition, Ezee Hugs is a social campaign that aims to provide warmth to underprivileged children during harsh winters by distributing free sweaters. To flag off the initiative, Gul Panag met the kids in New Delhi and distributed new sweaters amongst them.

As per the India Meteorological Department (IMD), the human death in India due to cold waves is much higher than due to heat waves between 1980-2018. There has been a 506% increase of cold waves in India during 2010 to 2018.
Thousands of underprivileged, school-going children across the Northern belt, bear the harsh winters without the warmth of woolens. Due to lack of woolen wear, the kids are also more prone to suffer from viral fever and cold. Godrej Ezee wanted to build awareness about this winter-related hardships and alleviating them. Thus, it started Ezee Hugs campaign. Over the years, Ezee Hugs has spread warmth by urging people to donate their woolens for children through this social good campaign.

Given the need to bring attention of more people on winter-hardships of children, Gul Panag has collaborated with Godrej Ezee this year. Known as an actress, entrepreneur, pilot, Gul is also a true humanitarian, and has always stood for causes close to heart.
She runs an NGO – the Colonel Shamsher Singh Foundation, named after a grandfather, which works in the area of education, and gender equality. Gul will use her platform to support the cause and spread awareness amongst public. While Ezee Hugs urges people to donate sweaters themselves amongst underprivileged kids, Ezee and Gul will jointly distribute more than 4000 sweaters across North India.

Speaking on this initiative, Sunil Kataria, CEO - India & SAARC, Godrej Consumer Products Limited (GCPL), "Godrej Ezee has always stood for warmth, comfort and care. Ezee Hugs, a noble initiative by Ezee that began in 2011, has grown over the years with the support of multiple stakeholders.
This year, we are pleased to partner with Gul Panag who is known to take up causes that matter. Her social and political activism has had her being recognized as one of the most influential voices on social media and a youth icon. Our intent is to not just donate sweaters but also bring attention of more people on this issue. We want to ensure that no underprivileged child suffers due to lack of appropriate means to keep themselves warm."

While speaking about her association with Ezee Hugs, Gul Panag, said, "For someone who has lived in North India, winter-related hardships faced by underprivileged kids is something not many talk about or even acknowledge. From health impact to school attendance, the impact of cold weather on kids with no proper woolen wear is significant.
Yet, there are fewer initiatives or people talking about it. Ezee Hugs is one such initiative that has stood strong and made people aware of this issue for over 10 years now. This is why I chose to partner with Godrej Ezee so that we can reach out to more people and ensure no underprivileged kid has to be without woolens.

"I have fond memories of winter, cozying up and enjoying the cold with my friends and family. I myself wear up to three layers of sweaters during this time of the year. At the same time, I realize that this is a privilege that not many of us have. I'm honored to associate with Godrej Ezee for such a thoughtful initiative. I would like to encourage people to donate as much as they can and help the children"



About Godrej Consumer Products Ltd

Godrej Consumer Products is a part of the over 124-year-young Godrej Group. We are fortunate to have a proud legacy built on the strong values of trust, integrity, and respect for others. As an emerging market company, we have witnessed rapid growth and are pursuing our exciting and innovative aspirations.

Today, our Group enjoys the patronage of 1.15 billion consumers globally, across different businesses. We rank among the largest Household Insecticide and Hair Care players in emerging markets. In Household Insecticides, we are the leader in India, the second largest player in Indonesia and are expanding our footprint in Africa.
We are the leader in serving the Hair Care needs of women of African descent, the number one player in Hair Colour in India and Sub-Saharan Africa, and among the leading players in Latin America. We rank number two in Soaps in India and are the number one player in Air Fresheners and Wet Tissues in Indonesia.

But for us, it is very important that besides our strong financial performance and innovative, much-loved products, we remain a good company. Approximately 23 per cent of the promoter holding in the Godrej Group is held in trusts that invest in the environment, health, and education. We are also bringing together our passion and purpose to make a difference through our Good & Green approach to build a more inclusive and greener India.

At the heart of it all, is our talented team. We take much pride in fostering an inspiring workplace with an agile and high-performance culture. We are also deeply committed to recognising and valuing diversity across our teams.