Hindi – Urdu Film Writer Shri Javed Siddiqi is awarded JIFF LIFE TIME ACHIEVEMENT AWARD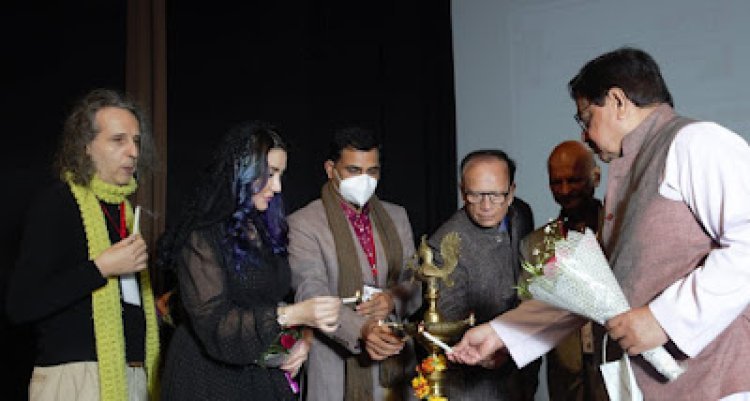 Hindi – Urdu Film Writer Shri Javed Siddiqi is awarded JIFF LIFE TIME ACHIEVEMENT AWARD
JAIPUR | It's 4:30 P.M. at Maharana Pratap Auditorium, Jaipur and the ambience is surrounded by the worries of rapidly spreading OMICRON [third wave of COVID19] and chilling cold of the Pink City. Preparations for 14th Jaipur International Film Festival are taking place here.
Hopes were high, preparations were huge and the auditorium was supposed to be filled with cinema lovers from every corner of the world, but everything had to be limited because of the dangers of the approaching pandemic.
Chief Minister Ashok Gehlot was about to come for the Opening Ceremony and to honour Javed Siddiqi with JIFF Lifetime Achievement Award, but unfortunately he himself caught COVID and could not make it. Though he conveyed his heart felt wishes through a congratulatory note to JIFF and welcomed all cine lovers to the beautiful city of Jaipur.

Despite all the challenges, all were applauding and the Film Festival started with a great enthusiasm saying loudly 'SHOW MUST GO ON'.

Hindi – Urdu Film Writer Shri Javed Siddiqi is awarded JIFF LIFE TIME ACHIEVEMENT AWARD

Shri Javed Siddiqi, a widely known Film Writer was honoured with this very prestigious JIFF LIFE TIME ACHIEVEMENT AWARD. JIFF founder director Hanu Roj and spokesperson Rajendra Boda honoured Javed Siddiqi by giving him a shawl and memento, as a symbol of his great contribution to cinema. Film lovers expressed their reverence by giving a standing ovation to Siddiqi, and he said, "My whole life, I've been playing with words and creating magic with words, but today I'm falling short of words. Since childhood, I've heard about art, culture and sculpture of Jaipur, but now I feel that Jaipur is creating a new history of cinema through Jaipur International Film Festival". Next to it, Padma Shri Gulabo Sapera and her fellow dancers presented the beautiful dance.

Born in 1942, in Rampur, Javed Siddiqi has earned great name and fame by writing screenplays and dialogues for more than 60 super hit films in his career. He's been honoured with prestigious Film Fare Award twice, in 1994 for super hit film Baazigar and in 1996 for block buster Dil Wali Dulhaniya Le Jayenge. Besides, he has been awarded with Star Screenplay Award for writing screenplay of super successful film Raja Hindustani in 1996.

129 AWARDS under 14 Categories

A total of 129 awards under 14 categories were given, in the Opening Ceremony. Directors, producers, actors and writers of approximately 50 winning films participated in the Opening Ceremony and received the awards from dignitaries of the town. At this special occasion, prominent artists, social activists and renowned guests including Padma Shri Shakir Ali, Padma Shri Tilak Geethai, Padam Shri Gulabo, Bollywood singer Ravindra Upadhyay, singer Veena Modani, Kathak Guru Manjari Kiran Mahajani, and popular painter Sanjeev Sharma awarded the winners. Among foreign guests, Mr. Robert Eugen Popa, film director from Romania and Ms. Maryam Pirband, film director from USA added grace to the opening ceremony by their esteemed presence.

"From the bottom of my heart, I thank all the dignitaries for taking time to make this evening special and audiences despite such tough times. We would make 14th edition of JIFF successful being together as a family and follow all COVID protocols and guidelines", says delighted Hanu Roj, Founder - Director of JIFF.

FILMS won the AWARDS
Under Feature Film Category, Golden Camel Award ~ Leader, directed by Katia Priwieziencew, Green Rose Award ~ Nani, directed by Samvid Anand from India, Yellow Rose Award [Upcoming Film with World Premiere] Award ~ Dandelion Season, directed by Maryam Pirband from USA, Yellow Rose Award ~ Zorilo's Secret [World Premiere Film], directed by Robert Eugen Popa from Romania.
Best Actress Award ~ Matilda De Angelis for Atlas, Best Actor Award ~ Yashwant Anand Gupta fo 4sum, Best Original Screenplay Award ~ Leader directed by Katia Priwieziencew, Best Short Documentary Award ~ Unseen Meghalaya directed by Sapan Narula from India, Best Documentary Feature Award ~ Sadan Hanim directed by Goksel Gulensoy from Turkey, Best Short Film Award [Mobile Film] ~ Garden Party directed by Didier Mulleras from France, Best Song Award ~ Copper Lines directed by Mayuri Joshi from United States. Brother Troll directed by Gudmund Helmsdal from Faroe Islands won Best Short Film Award, Best Script Award and Best Cinematographer Award.


These FILMS from RAJASTHAN get AWARDS

Best Short Fiction Film Award ~ Washing Machine directed by Anand Singh Choudhary, Lathi directed by Gajendra Shotriya, The Makeup Artist directed by Raghav Tiwari. Special Jury Mention: Short Fiction Film Award ~ The Last Call directed by RJ Mohit, Best Song Award ~ Roshaniyan directed by Gaurav Bhatt, Special Jury Mention Award for SONG ~ Tanmay Singh directed Holding Me Back, Best Feature Fiction Award ~ Aditya Patwardhan directed A Nomad River, Sanjay Nirwan directed Veerangna, and Aata directed by Hemant Sirvi.

Awarded Films would be screened at INOX

From 8th to 11th January, screening would continue from 10 A.M. to 10 P.M. At INOX, GT Central, Jaipur ~ screening of films would continue from 10 A.M. to 10 P.M. Out of 108 films, 90 films are going to be awarded this time. On 8th January ~ 31 Films from 10 countries, On 8th January ~ 31 Films from 10 countries, On 9th January ~ 23 Films from 13 countries, On 10th January ~ 32 Films from 15 countries, On 11th January ~ 22 Films from 8 countries would be screened.

279 FILMS from 52 COUNTRIES would be screened at INOX, GT Central
JIFF spokes person Rajendra Boda informed that during the festival, selected 279 films from 52 countries would be screened in hybrid mode [Offline – Online mode]. On 8th January ~ 70 Films from 26 countries, On 9th January ~ 24 Films from 68 countries, On 10th January ~ 66 Films from 21 countries, On 11th January ~ 69 Films from 22 countries would be screened.